2022/03/17
Synsam named Sweden's most sustainable brand in optical retail for the fourth year in a row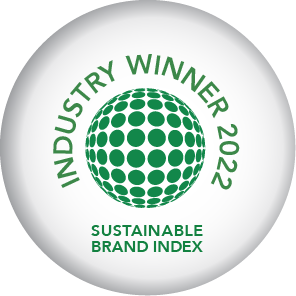 Synsam Industri Winner SBI 2022
Synsam Group has a clear vision of being the leading and most sustainable lifestyle company in optical retail and eye health. This is achieved through a customer-driven approach, through offering sustainable choices and through taking responsibility for a sustainable climate and societal development.
– Sustainability is a cornerstone of our business. We help our customers to see better and to maintain healthy eyes throughout their lives, and we want to do this with the least possible climate impact. We continue to develop sustainable products and our journey to bring back production to Sweden is an important part of that. It makes me very happy and proud that our efforts are recognized and praised by Swedish consumers, says Jenny Fridh, Chief Communications and Sustainability Officer for Synsam Group.
A selection of Synsam Group's sustainability work:
Synsam Group moves production

of spectacles from Asia to Frösön outside Östersund in Sweden. The relocation is an important step in Synsam Group's effort to minimize its climate footprint, by reducing transports and strengthening its focus on circular, recycled and locally produced materials.

Synsam Recycling Outlet

is the first store for recycled spectacles and sunglasses in the Nordics. Through the initiative, Synsam Group contributes to more circular flows, reduced use of raw materials, reduced waste management and attractive customer offerings. Synsam Group has opened 13 recycling outlets throughout the Nordic region so far.

The community initiative Alla ska se,

through which Synsam Group has distributed more than 34,000 free activity glasses to children to increase the motivation for active leisure time - where a visual impairment should never stand in the way.

Circular flows through the reuse and recycling bins

that have been placed in all 500 stores. Customers' used spectacles are washed, adjusted and the glass is removed. The frames are then re-sold in Synsam Recycling Outlet. The material of the more worn glasses is reused for new frames, under the brand Circular Collection. Part of the volume is sent to third countries to be matched with a new carrier through Synsam Group's partner Vision For All. Remaining volumes of used glasses are sent to a recycling center where they are picked up and sorted into the correct recycling fraction.

A collection of recycled sea plastic

– spectacles in collaboration with the organization Sea2See, which collects plastic and waste in the Mediterranean Sea.
About Sustainable Brand Index™
The Sustainable Brand Index is Europe's largest independent brand study on sustainability. The study has been conducted annually since 2011. In the 2022 study, a nationally representative sample of 24,300 Swedes aged 16 to 75 were interviewed during the period December 2021 to February 2022. A total of 410 brands in 35 industries have been assessed based on how they are perceived to perform within the 17 global sustainability goals. Read more about the Sustainable Brand Index at www.sb-index.com
For more information, please contact:
Jenny Fridh, Chief Communications and Sustainability Officer Synsam Group
+46 730 277 018, jenny.fridh@synsam.com