2020/12/01
Synsam opens recycling and outlet store in Linköping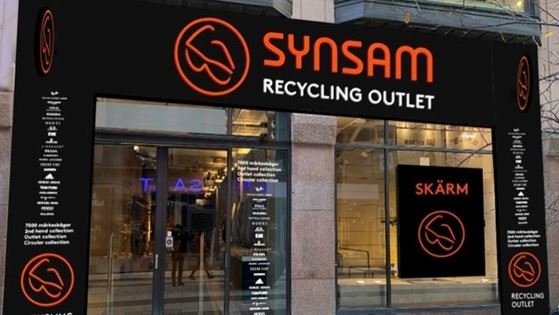 The new "Synsam Recycling Outlet" store concept gives Synsam's spectacles and sunglasses a second chance. The unique, specially designed 172 square metre store will sell second-hand products in good condition at lower prices. The chain's sustainable frame assortment will also be featured in the store, along with collections from well-known brands that are no longer part of the ordinary range.
"For us at Synsam, when it comes to sustainability it's important to follow through on our words with action. Synsam's recycling and outlet sales contribute to circular flows, reduced waste and an attractive customer offering. I'm very proud that we have the opportunity to inspire more people to make more sustainable choices," says Håkan Lundstedt, President and CEO of Synsam Group.
Processing used and unused
Synsam is focusing on sustainability throughout the value chain, from designs that take sustainability and quality into consideration to recycling material from spectacles. The Synsam Recycling Outlet concept is the next important step: using the spectacles that customers return and giving them a second chance. Frames in good condition are cleaned, adjusted and returned to the circular economy.
"When these spectacles are worn a second time by their new owner, Synsam helps with the most important part of sustainability – reusing already-manufactured products. It's the right time to reduce the amount of raw materials used, and to offer an attractive retail space for recycling and an outlet for spectacles and sunglasses," says Håkan Lundstedt.
Spectacles in worse condition that are left in the recycling boxes are recycled into material for Synsam's latest sustainability collection, Circular Collection.
Synsam Recycling Outlet in Tornby:
Synsam's Recycling Outlet is a new, unique concept that offers a wide range of recycled frames and sunglasses from Synsam's stores. It also offers products from Synsam's sustainability collections and collections from well-known brands like Gucci, Tom Ford, Ray-Ban, Oakley and others that are no longer part of the ordinary range. An estimated 5,000 frames will be offered. The store has two eye examination rooms.
Synsam has hired ten new employees: two opticians and eight sales and customer consultants.