2020/09/11
Ai Eyewear – New innovative concept in Synsam Group's 500 stores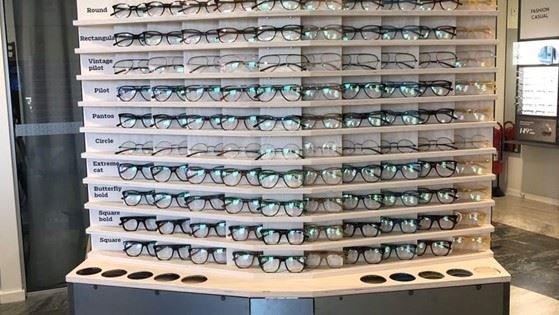 "Ai Eyewear provides excellent value for Synsam's customers. In addition to numerous colour, design and lens options, the concept is also very attractive thanks to its affordable, all-in prices. The customer gets a lot for their money," says Håkan Lundstedt, President and CEO of Synsam Group.
Ai's concept: 1,000 options – customer designs their spectacles themselves
Ai Eyewear's range consists of frames for adults and a range for children and young people. Ai Eyewear makes choosing spectacles and sunglasses fun, personal and easy. The range for adults consists of ten designs in ten colours, combined with a choice of ten different lens colours for a total of 1,000 different combinations. The customer designs the frames themselves by choosing the design, colour and lens colour. The collection is unisex, with a balance between acetate and metal. The frame designs include timeless panto, trendy aviator and classic rectangular. The colours range from the classics to bolder choices like gold, red and green.
Large collection for children and young people
The children and young people collection, Ai Eyewear Young, consists of five designs in two sizes and six colours, for a total of 680 different eyewear options. Ai Eyewear also allows children and young people to design their own spectacles by selecting their design, colour and lens colour. In the autumn, a Limited Edition design will also be launched in two sizes and four colours.
"The need for vision aids in younger target groups is growing rapidly, so of course children and young people should also have a broad range of attractive, personalised spectacles to choose from. It's exciting, and definitely an investment that's in keeping with the times, that Synsam Group is now offering Ai Eyewear in all of its Nordic stores," says Martin Daniels, Managing Director of Ai Eyewear.
Flat, environmentally friendly spectacles cases
As a part of Synsam's sustainability agenda and with the aim of minimising its climate impact, Ai offers flat spectacles cases for more space-efficient shipments. Ai cases are available in two sizes and fit all frames, and customers can easily fold them up when they're not in use.