2022/05/13
Nils van der Poel develops new sports glasses for Synsam Group's innovation initiative in Östersund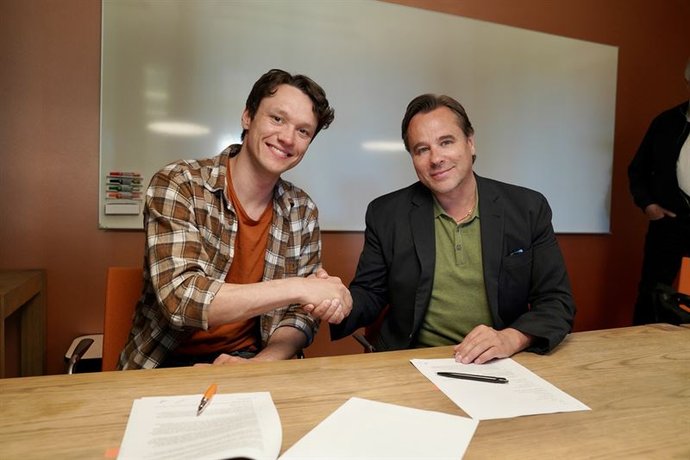 Synsam Group's mission, to help people have good eyesight throughout their lives, and at all times, is just as accurate when it comes to sports. Everyday, exercisers as well as athletes can feel better and achieve better results with the right vision aids. Nils van der Poel joins Synsam Group as a business and product developer, bringing deep experience and expertise from elite sports, as well as a holistic view of life, to the sports segment.
– Nils has a winner attitude and he challenges conventions. It is a perfect fit for Synsam and our way of constantly challenging ourselves and improving, in order to help our customers to see better, and to look better. I am delighted to welcome Nils to the Frösön team, where we will work together to broaden our sports glasses segment and develop visual comfort for all types of sports and movement, says Håkan Lundstedt, President and CEO of Synsam Group.
Synsam Group's large innovation center on Frösön will be inaugurated in August, in conjunction with the relocation of parts of its production from Asia to Sweden. Synsam Group will use the innovation center to expand the company's unique niche in sports glasses, which it has developed for several years. Nils van der Poel understands what it takes to perform at the highest level.
– As athletes, we understand that the devil is in the details. Seeing everything, and wearing glasses that can help you with that, is critical for a successful outcome. I am very excited to be a part of Synsam's product development team and to further improve the quality of the sports glasses on the market. It feels great to be able to do it with Synsam as I find their sense of accountability in bringing production home to Östersund very inspiring, says Nils van der Poel, World Champion in skating.
About the collaboration and the sports glasses segment
The collaboration between Synsam Group and Nils van der Poel will begin in May 2022. Nils Van der Poel will assist Synsam in business and product development for sports glasses. The work will be carried out as part of the Made in Sweden initiative, Synsam Group's innovation center on Frösön outside Östersund. Nils will also serve as an ambassador for children, adolescents, and athletes.
Synsam Group offers a wide range of sports glasses that cover approximately thirty of the most common sports activities within the categories Active, Outdoor, Snow, Street, and Water. A good pair of sports glasses combines function and design, and allows exercise in the best possible - or even better - way. Sports glasses are customized depending on which sport that is practiced, such as for speed; skating or cycling, or adapted for special light conditions; golf, sailing, or skiing. Sports glasses are available in-store and online, with and without a prescription. Customers can choose from a variety of brands, including Synsam's own Rigel and Sports Essential.
For more information, please contact:
Jenny Fridh, Chief Communications and Sustainability Officer Synsam Group
+46 730 277 018, jenny.fridh@synsam.com
About Synsam Group
Synsam Group is a leading optician group in the Nordic region, with a differentiated and sustainable Lifestyle offering. Synsam Group offers a wide range of products and services for eye health and eye fashion, catering to the customer's different lifestyles and needs. The group has approximately 3,500 employees, net sales of approximately SEK 5 billion (rolling twelve months until March 2022) and has approximately 500 stores in the Nordics, operating under the brands Synsam, Ai Eyewear and Profil Optik in Denmark. Through digitalization, subscription services and other innovative concepts, Synsam Group is at the forefront of innovation in the Nordic optical retail market across multiple dimensions including customer journey, product offering and ESG. Synsam Group's share is traded on Nasdaq Stockholm (SYNSAM). www.synsamgroup.com.
About Nils van der Poel
Nils van der Poel is the reigning World Champion in both the 5,000- and 10,000-meter races (2021), as well as the world record holder in both distances. Van der Poel won the gold medal in the 5,000 meters and 10,000 meters at the 2022 Winter Olympics. The first on a new Olympic record time, and the second on both an Olympic and a world record time. Van der Poel also won the world speed skating championships at All-round 2022 in Hamar, a two-day competition that combines results from 500 m, 1,500 m, 5,000 m, and 10,000 m. Van der Poel announced on March 3, 2022, that he will retire after the 2021/2022 season. His last race was on March 12, 2022, in the World Cup final in Heerenveen. He won the 5000 meters, giving him the world cup title in long distance 2021/2022.